TerraDotta
CIEE Open Campus Program
13 Locations Globally
Currently Not Accepting Applications
What is CIEE's Open Campus program?
CIEE's Open Campus Block programs are unique, flexible study abroad programs that give you, the student, control over the design of your study abroad experience - from courses, to length, to destination!

You Choose!
Courses
With CIEE's seven academic tracks from Business to STEM you will find courses taught in English, foreign languages, internships, research projects, and service learning options.

Program Length and Destination
CIEE Open Campus blocks are flexible for all school calendars with 6, 12, or 18 week blocks. Stay in one location for 2 or 3 blocks, or study in up to three of these amazing CIEE Global Institute locations around the world - Berlin, Buenos Aires, Cape Town, Copenhagen, London, Madrid, Monteverde, Paris, Rio de Janeiro, Santiago, Shanghai, Sydney, and Yucatán.

Dates and Deadlines
| Term | Year | Application Deadline | Decision Date | Start Date | End Date |
| --- | --- | --- | --- | --- | --- |
| TBD | TBD | TBD | TBD | TBD | TBD |
Program Description
Orientation
Upon acceptance to the program, you will be required to attend a
mandatory Pre-Departure Orientation
organized by SHU's Office of Global Affairs. During this orientation, further details about the course and program details will be discussed. Pre-departure orientations
Spring
programs are held in
November
. Pre-departure orientations for
Fall
programs are held in
April
.
The Office of Global Affairs also offers
mandatory
Next Steps Orientation
for students accepted to the CIEE Open Campus program to orient them to the preparation and processes involved in preparing for a semester abroad.
Students will also participate in
mandatory online pre-departure orientations
through CIEE as well as
on-site arrival orientations
for each location they attend. Topics covered will include safety, cultural differences, academics, expectations, academic and wellness resources, among others.
CIEE provides students extensive resources in their CIEE portals to help them prepare to have safe and successful study abroad programs.
Opportunities
CIEE offers a variety of
volunteer, research, and internship opportunities
for students across all Open Campus locations.
Visit each CIEE Open Location homepage via the links below to learn more about these opportunities, as well as detailed information on excursions, location, housing/meals, and academics for each CIEE Global Institute.
Berlin, Germany
Buenos Aires, Argentina
Cape Town, South Africa
Copenhagen, Denmark
London, United Kingdom
Madrid, Spain
Monteverde, Costa Rica
Paris, France
Rio de Janeiro, Brazil
Santiago, Chile
Shanghai, China
Sydney, Australia
Yucatan, Mexico
Berlin, Germany: The thriving global city of Berlin is home to nearly 3.5 million people. Live among the locals and see for yourself why Berlin is ranked among the top for global urban quality-of-life – with excellent public transportation, you'll have no problem exploring the city's parks, orchestras, museums, festivals, and historical landmarks.

Buenos Aires, Argentina: Founded in 1536, this bustling metropolis reveals its European and Middle Eastern influence everywhere you look. Buenos Aires is a vibrant port city and the world's leading Spanish language publishing hub. Travelers enjoy world-class museums and restaurants, exceptional architecture, and a rousing nightlife. With weather that is pleasantly mild, year-round, Buenos Aires is always ready for exploration by bike, public transportation, or on foot - one of the many reasons it was voted "the number-one city to visit" in Latin America.

Cape Town, South Africa: With a glorious climate and natural draws like Table Mountain and stunning beaches, it's no wonder Cape Town is Africa's number-one tourist destination. Day and night, this multicultural city offers much to do: water sports, mountaineering, nightclubs, and restaurants. As a microcosm of many African countries in transition, Cape Town also illuminates the issues of joining the global economy while grappling with vast socioeconomic inequalities born from its colonial and apartheid heritage.

Copenhagen, Denmark: The capital city has a population of approximately two million in the metropolitan area with a cosmopolitan city atmosphere and rich cultural offerings. Copenhagen is known as an environmentally friendly city, where cars share the streets with bicycle commuters; in fact, in 2017, the city recorded more bicycle than automobile traffic. The public transportation system is efficient, clean, and easily accessible and consists of buses, trains, metro lines, and ferries. The Metro brings passengers from the Kastrup International Airport to the city center in twenty minutes. Crime is low in Copenhagen and it remains one of the safest capital cities in Europe.

London, England: Shakespeare's Globe Theatre, The Tate Modern, Buckingham Palace - there is no shortage of must-see attractions in the capital of the United Kingdom. More than 300 languages are spoken in London, making it the most linguistically and culturally diverse city in the world. Experience it for yourself as you explore the music, fashion, theater, and comedy scenes in London as well as the huge variety of markets, and museums - not to mention the abundance of green space in and around London.

Madrid, Spain: Madrid's influence in politics, education, science, entertainment, media, fashion, and arts make it an important international metropolis, and the major hub in southern Europe. Spain's capital city is also its largest, with a historic center dating back to the Hapsburg Empire, and world-renowned art museums. A huge variety of tapas bars, dance shows, concerts, parks, soccer matches, bustling neighborhoods, and contemporary theater and cinema make it a lively place to live and learn.

Monteverde, Costa Rica: Located in northwestern Costa Rica, Monteverde lies along the continental divide at the crest of the Cordillera de Tilarán mountain chain, which is blanketed by a cool, wet cloud forest extending down into the Atlantic lowlands. The cloud forest provides a striking contrast to the deciduous forest on the Pacific side.The Monteverde Cloud Forest Reserve was founded in 1972 to protect the entire ridge top above Monteverde and down into the Peñas Blancas Valley. As a result of its unique history and geography, Monteverde is a stunning home to exotic flora, fauna, and wildlife and sustainability projects including agriculture, energy production, water conservation, forest management, and biodiversity conservation.

Paris, France: If you're looking to spend time in one of the world's most prominent centers of culture, finance, and commerce, look no further than Paris. The capital of France - and the country's most populous city - Paris is a top tourist destination and will make you fall in love with its historic landmarks, exquisite dining, and charming architecture.

Rio de Janeiro, Brazil: Rio de Janeiro is all about street life; the social and cultural life of the city is all out in the open. Rio is the third largest metropolitan area in South America and the most visited city in the southern hemisphere. Known for its stunning natural beauty, Carnival celebrations, musical culture, and renowned beaches. Rio's iconic landmarks include the giant statue of Christ the Redeemer atop Corcovado Mountain, one of the New Seven Wonders of the World, and Maracanã stadium, one of the world's largest football stadiums.

Santiago, Chile: Santiago de Chile has been a major contributor of Latin America's economic and social progress, representing a regional reference for political and economic stability. Having created a contemporary trend in arts and life style, in Santiago you will discover the urban deployment of multicultural and global tendencies with a Latin American atmosphere. Santiago de Chile is marked by a very high Cordillera de Los Andes, its traditional institutions such as the Palacio de La Moneda, as well as by the tallest corporate building of Costanera Center in the financial district of Vitacura, among others.

Shanghai, China: Shanghai, home to over 24 million people has seen massive development over the last two decades. The new financial district of Pudong is home to some of the tallest skyscrapers in the world. Boasting the fastest-growing rapid transit system in the world, Shanghai's urban centers are conveniently connected by the world's first commercial high-speed Maglev train, 13 subway lines, and two of the world's busiest airports. 21st century businesses are increasingly interconnected through complex technological, political, social, and financial systems.

Sydney, Australia: Sydney's origins trace back to an area inhabited by indigenous Australians for over 30,000 years, discovered by Europeans in the 1770's and settled as a penal colony in 1788. With a population of around five million, Sydney is a cosmopolitan, open-minded, multicultural city. Nearly half of its residents speak a language other than English at home and 36% were born overseas. Sydney is consistently ranked as one of the best cities to live globally, and it is renowned for its social inclusion, diversity, and tolerance.

Yucatan, Mexico: From its hundreds of Mayan ruins and colonial architecture to its exceptional food and bustling city life, the Yucatán is a complex hub of ancient and modern culture. In fact, the city of Mérida hosts one of the largest intact indigenous populations (60%) of any Latin American city. Look for Mayan culture as part of daily in the modern city – its regional foods, music, textiles and traditions are all rooted in centuries of tradition. Above all, Mérida is a safe, modern city filled with wonderful people among its shops, restaurants, universities and museums.The Yucatán is ideal for studies in natural sciences including ecology, the environment, astronomy and cosmology and even physics! Much of the region sits within the Chicxulub crater, formed by the impact of a large asteroid that hit earth 66 million years ago, causing the fifth great extinction that included dinosaurs. Geologically, the Yucatán's karst topography of limestone creates caves and cenotes rich in beauty and cultural significance. Additionally, zoos, botanical garden, Museum of Natural History, and science institutes are all within easy reach.
Fall 2020 Course Comparison Tool
Eligibility
You must have an overall GPA of 2.5+ and be in good disciplinary and financial standing with SHU.
Course Credit
SHU approved courses taken on this program will count towards your general graduation total. Course grades will also factor into your cumulative Grade Point Average (courses are not available for Pass/Fail).
Students can reference the
Course Equivalency Database
to see which courses have already been approved. Approval for courses not yet approved can be requested through the Office of Global Affairs. Email
adlon-placee@sacredheart.edu
for more information.
CIEE courses
: 3 credits; 45 contact hours
CIEE Internship
: 3 credits; 15 seminar hours, 100-120 internship placement hours
Language of Instruction
English
Requirements
Students enrolled in one location for 3 blocks will enroll in 5 or 6 CIEE courses (3-credits each).
Students enrolled in one location for 2 blocks will enroll in 4 CIEE courses (3-credits each).
Students enrolled in a combination of locations will enroll in 2 CIEE courses (3-credits each) per location of study for a total of up to 6 courses.
Students may participate in the internship program for one of their course enrollments.
Optional 1-credit language communication courses may be available.
The housing and meals will differ for each location.
Housing and Meals are NOT included as part of your SHU study abroad program fees. Housing and meal fees are paid directly to CIEE.
Housing and meal details can be found for each CIEE location via the Open Campus program homepage
HERE
. Some examples are below.
Berlin, Germany
Housing - Residence Hall: Most students live in an on-campus residence hall with a mix of CIEE students and resident assistants. Students live in double, triple, or quad rooms with ensuite bathrooms and shower facilities. Lounges and kitchens allow students to mingle over meals, cultural activities, study groups, and special events. They are shared spaces, with students enjoying the benefits but also the responsibility of taking care of them. Larger common areas are on the ground floor and inner courtyards offer comfortable spaces to work and relax.
Housing - Homestay: A limited number of homestays are available, with preference given to those whose universities require living with a local family. Students can indicate their preferences in the pre-departure housing survey.
Housing - Apartments: Students may also be housed in shared apartments. Final housing assignments are solely at the discretion of CIEE.
Meals - Residence Hall: Students can prepare their own meals in the full kitchens. CIEE provides basic cooking utensils and cleaning supplies. Students also may get coffee, tea, soft drinks, snacks, and sandwiches at the on-site café, or explore the myriad restaurants in the Kreuzberg neighborhood.
Meals - Homestay: Students who live with homestay families receive breakfast and dinner daily.
Buenos Aires, Argentina
Housing - Homestay: To complete your Argentine cultural experience, live with a local family. Students are placed with carefully screened homestay families. Each family has at least one member that can speak English. Hosts may be families with young children, single professionals, young couples with no children, or older couples.
Meals: Homestays include two meals per day: breakfast and either lunch or dinner. Students are responsible for the other meal. Host families and students decide meals together. Meals are NOT included as part of your SHU study abroad program fees. Please visit CIEE's website here for more information on meal costs not included in housing fees.
Cape Town, South Africa
Housing - Homestay: Living with a South African family is the best way to maximize cultural immersion. Families live throughout the Cape Town area, and students take public transportation to and from the Global Institute.
Housing - Shared Apartment: Students share apartments above the Global Institute with other CIEE participants and Resident Assistants (RAs). There is a combination of both single and double rooms within the apartments. These are allocated randomly. Students share kitchen and other facilities with three to six students. All residents of the apartments share basic cleaning duties.
Meals - Homestay: Breakfast and dinner are provided on weekdays. Breakfast, lunch, and dinner are provided on weekends. Students are responsible for lunch on weekdays.
Meals - Shared Apartment: Students are responsible for all meals. They can prepare their own meals at their apartment, or eat at the many restaurants on the Global Institute block.
Copenhagan, Denmark
Housing - Apartments: Students are housed in shared apartments or furnished studios located throughout the city within a 40-minute commute by bike to the Global Institute.
Housing - Residence Hall: Students share a furnished room with another CIEE student in a student dormitory. Residences are located throughout the city within a 20-minute commute by bike to the Global Institute.
Meals - Apartments: No meals provided. Students prepare their own meals in shared kitchen facilities. CIEE provides basic cooking utensils and cleaning supplies. Students also explore the myriad of restaurants that Copenhagen has to offer.
Meals - Residence Hall: No meals provided. Students prepare their own meals in their own kitchenette or the residence hall's shared kitchen facilities. CIEE provides basic cooking utensils and cleaning supplies. Students also explore the myriad of restaurants that Copenhagen has to offer.
London, England
Housing - Residence Hall: Students will live in either residence halls or shared apartments centrally located in Bloomsbury, Farringdon, or Kings Cross. Students will share twin or triple rooms.
Meals - No meals are provided in student housing but students will have access to kitchen facilities to cook their own meals.
Madrid, Spain
Housing - Shared Apartments: Students can live with other CIEE students in apartments that have single or double rooms and shared bathrooms. Utilities, cleaning, laundry facilities, and internet access are included.
Housing - Commuting: Shared apartments are located in central Madrid. All students will be living within a 30 minute or less commute via public transportation to the CIEE Global Institute.
Meals - Apartments: Meals are not included. Students prepare meals in their shared kitchen apartments or purchase affordable meals in their neighborhood at supermarkets, cafeterias, etc.
Monteverde, Costa Rica
Housing - Campus accommodations: Students stay in the "bungalows" of the CIEE Global Institute campus in shared rooms with en suite bathrooms. Three simple, but hardy meals are served in the dining hall. The campus includes indoor and outdoor common areas for recreation and study and allows exclusive access to forest trails and gardens.
Housing - Homestay: Open Campus students have the opportunity to participate in an optional weekend homestay each block.
Meals - All students receive three meals per day.
Paris, France
Housing - Shared Apartments: Most students live in shared apartments in Paris with other CIEE Summer in Paris students. Student apartments are located throughout the city but will be within a 45-minute commute of the Global Institute.
Housing - Homestays: A limited number of homestays may be available.
Meals: Students who live with homestay families may receive breakfast daily plus five meals per week. Meals are not provided for students staying in apartments. Each apartment has its own kitchen where students may prepare their meals
Rio de Janeiro, Brazil:
Housing - Homestay: Students live with Brazilian hosts – a great way to absorb maximum language and culture, and create lasting friendships. Hosts range from families to individuals, and welcome one or two CIEE students. Each student has a private bedroom and shared kitchen, bathroom, and laundry facilities in the home.
Housing - Shared Apartments: Students can live with other CIEE students in apartments that have double rooms, bathroom, kitchenette, and desks for study. Availability is limited – first-come, first-served. Utilities, cleaning, and Internet access are included. Laundry facilities are available nearby.
Housing - Commuting: Host homes and shared apartments are located in the South Zone of Rio. All students will be living within a 20 minute or less commute via public transportation to the CIEE Global Institute.
Meals - Homestay: Includes breakfast and one additional meal per day. Students are responsible for the other meal.
Meals - Apartments: Students are responsible for all meals. They can prepare meals at their apartment or eat at any of the many restaurants nearby.
Santiago, Chile:
Housing - Homestay: this option provides an excellent opportunity for immersion into the local culture. A single room, two meals a day, laundry once a week, and Wi-Fi are provided.
Meals - Housing includes two meals per day.
Shanghai, China:
Housing - The campus residence hall is a five-story facility located on the north end of East China Normal University Zhongshan (ECNU) campus.
Meals - The residence hall is a stone throw's away from the main cafeteria on campus. Most students choose to eat in a variety of Chinese fast food restaurants and cafeterias within walking distance of ECNU, but limited cooking facilities are available in the dorms.
Sydney, Australia:
Housing - Students in Sydney will live across a variety of housing locations. Housing options are mostly twin rooms with some single and triple rooms. Students will share a kitchen and other facilities with others. Housing locations are all in convenient locations to shops, cafes and public transport within the city area and are within a commute of around 30 minutes to classes in Ultimo, Sydney.
Meals - You will have shared kitchen facilities to prepare meals or purchase food and drinks at local grocers. Sydney has a vibrant food scene with fresh local fruits, vegetables, and meats readily available. You'll find Australian food is influenced from all corners of the globe, whether it's a walk down Spice Alley, fish and chips on the beach or a traditional Australian pub feed there is something for everyone's tastes.
Yucatan, Mexico:
Housing - Homestay: students stay with local families to fully immerse themselves in the local culture.
Meals - Homestay: two meals per day.
OPEN CAMPUS BLOCK PROGRAMS INCLUDE 2-3 DAY STUDY TOURS!
Multi-day tours, designed to complement your academics and enhance your cultural immersion, are included in all of CIEE's Open Campus Block programs! Some examples of past tours and cultural activities are listed below.
Students in Berlin can ...
Visit the German Institute for International and Security Affairs to discuss cyber security.
Walk along the East Side Gallery – the longest existing stretch of the Berlin Wall – with a local artist and political activist.
Tour Jamba!, a ring-tone creator and marketing firm that has become one of Berlin's most successful tech start-ups, and more.
Students living in the residence hall can experience a weekend homestay with a local German family.
Students in Buenos Aires can …
Enjoy the city like a local by attending festivals, soccer games, live tango dances and more.
Join a student club or sports team and share culture, ideas, and down time with fellow students.
Visit free museums, art galleries, and cultural centers such as Museo de Bellas Artes, Museo Fernandez Blanco, Museo de Arte Moderno, Centro Cultural Recoleta, and others.
Experience live theater and concerts at nearby venues like Teatro Nacional Cervantes, Teatro General San Martín, Teatro Avenida, Teatro Broadway, Teatro Gran Rex or the magnificent Teatro Colón (ranked the world's third best by National Geographic).
Explore the Reserva Ecológica Costanera Sur and see more than 250 bird species and a wide variety of mammals, reptiles, amphibians, and butterflies.
Take a day-trip to explore the city surroundings.
Students in Cape Town can ...
Visit the iconic Robben Island or soak up some of South Africa's natural beauty on Table Mountain, the Cape Peninsula or nearby Clifton Beach. Afterwards, catch a cricket or rugby match at Newlands Grounds with friends.
Engage with local community organisations by tutoring, mentoring, or volunteering your time – students say it's a program highlight.
Students in Copenhagen can ...
Students can experience Danish hygge during a weekend homestay. Hygge explains the Danish lifestyle that can be described as a quality of coziness and comfortable conviviality that engenders a feeling of contentment or well-being. Hygge can be a candle-light dinner, but it can be a dinner with family, friends, and like-minded people sitting around a table and have a lighthearted conversation.
Experience Copenhagen's transformation from a Viking fishing village founded in the 10th century to a world leading capital of sustainability and innovation, through a visit to the National Museum.
Students in London can ...
Visit the Wellcome Collection, a research institution for the study of the evolutionary, historical, social, and institutional contexts of individual human development.
Stroll through the Science Museum and Natural History Museum.
See the Tower of London, a former castle, residence, and prison preserved as a memorial and museum.
Take a guided-walk in Shoreditch, a community in the heartland of street art in London.
Participate in a two-night, three-day study tour to another country or region in the United Kingdom during each academic block.
Students in Madrid can ...
Embark on a two-night/three-day study tour to a different region of Spain or neighboring country, like one of these:

Bilbao. Discover the region's distinctive political identity through food, architecture, art, and sport.
Tenerife. Explore the largest Canary Island, and learn about the impact of immigration and how mass tourism affects sustainability.
Lisbon. Learn about a peripheral EU economy with visits to local company exporters.
Granada. Explore this Andalusian city´s role in the Arab world, history, and today's tourism.

Stay with Spanish hosts for a weekend.
Soak up Spanish culture with museum visits, cooking lessons, urban art tours, film festivals, and neighborhood visits.
Connect with other students through sports and active outings.
Boost your Spanish skills via language exchange.
Get to know the city better by helping at a youth center, school, or other organization.
Students in Monteverde can ...
Attend a 2-night Study Tour to a natural destination, such as National Parks or Reserves to experience Costa Rica's biodiversity
Rise with the sun for birding tours or farm chores
Experience biodiversity after the sun goes down, with a guided night hike in the forest
Students in Paris can ...
Take trips to fascinating French locations - previous destinations have included Amboise, Reims, Rouen, Giverny, Chantilly, Vaux-le-Vicomte to name a few.
Learn the nuances of the City of Lights through a guided walk of Paris.
See the Mona Lisa with your own eyes at the Louvre Museum.
Visit the theaters, cafés, and luxury shops of the Champs-Élysées.
Students in Rio de Janeiro can ...
Take a Study Tour trip and discover Brazil.
See why Brazilians are mad about football by attending a live match at the Maracanã, one of the world´s biggest soccer stadium.
Take percussion lessons with professional samba players.
Immerse yourself in Rio's rich local culture during Carnival and many other festivities.
Experience a capoeira lesson.
Take a hike on one of the many trails through the Atlantic Forest that envelopes the city. You can even hike to the top of Corcovado mountain, where the Christ the Redeemer statues awaits you.
Students In Santiago can ...
Explore Chile's varied historical and cultural highlights.
Immerse yourself in Chilean history and arts through our cultural activities such as visit to museums, craft fairs, and visit historic neighborhoods recognized as landmarks of the city of Santiago.
Students in Shanghai can ...
In each block, students participate in a study tour to another region, which could include Beijing, Xi'an, Nanjing, or Xiamen Day trips: Zhujiajiao – a preserved water town in Suzhou
Activities: Shanghai Film Museum, Shanghai Volkswagen site visit, site of the First Communist Party Congress, Jewish Museum
Students in Sydney can ...
Go on a 3-day/2-night excursion to the nation's capital, Canberra, to learn about the governance of Australia and witness the highs and the lows of Australian history at the Australian War Memorial and the Reconciliation Place
Kayak with your "mates" through Sydney Harbor before a traditional Australian BBQ
Hike the spectacular Blue Mountains with experienced and informed guides ready to share the environmental and cultural history of the spectacular landscape
Students in Yucatan can ...
Explore the ruins of Chichén Itzá – perhaps the most famous pre-Columbian site built by the Maya and one of the Seven Wonders of the World!
Tour the world-class science facilities of the Scientific and Technology Park of Yucatán, home to seed banks, botanical gardens and more.
Attend a Maya purification ritual in the Sacamucuy cenote
Drive to colorful Campeche, just two hours southwest of Mérida. The historic fortified town is a UNESCO World Heritage Site where one can stroll the colorful streets in this old port city. Imagine the attacks by pirates and conquistadors from atop Fort San Miguel then savor the fresh seafood in any of the dozens of restaurants within the old city walls.
Students must be in good academic, financial, and disciplinary standing with Sacred Heart University in order to be considered for a CIEE Summer program. Students must have a minimum GPA of 2.5.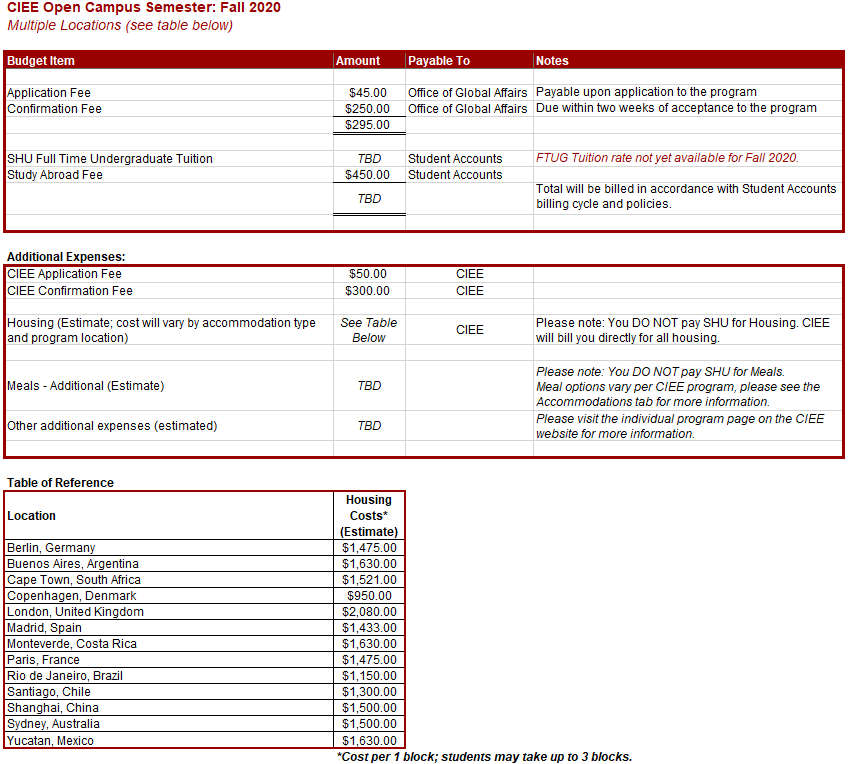 Please note: all costs subject to change.
Fees Include:
Program orientation, arrival airport transfer, and mandatory basic international health insurance.
Fees

DO NOT

Include:
Travel to/ from host country, major medical insurance, on-site course fees, visa/ resident permit fees, program materials, or any personal expenses.
Additional Billing Information:
All expenses are subject to change based upon currency fluctuations, flight demand, personal spending habits, etc. Actual expenses may be more or less than the listed estimates.
Please Note: Program withdrawal fees, penalties, and refunds are subject to the withdrawal policies of each program.

Scholarships and Financial Aid:
Scholarships are a great way to support the cost of your study abroad experience. In an effort to encourage you to study abroad, and to make a study abroad experience more accessible, the SHU Office of Global Affairs prepared a list of scholarships and financial resources. Please note that this is not a conclusive list but it will help you start your search process. The OGA encourages you to apply and take advantage of as many relevant scholarship opportunities as possible.
Please speak with
Student Financial Assistance
to determine how your aid package will apply towards studying abroad.
Please ensure applications for the Welch Tuition Waiver, Thomas More Honors Program Scholarship, and/or Matthew R Dalling Scholarship are submitted by the specified deadline. Applications and corresponding deadlines can be found in your Study Abroad Account. Failure to submit applications by the specified deadline may cause the scholarship dispersal to be significantly delayed.
If you receive scholarships, grants, or financial aid through SHU, these awards are posted to your Student Account according to the normal disbursement schedule.
Please contact the Office of Global Affairs directly for further information.
SHU students who participate in the internship opportunity as a part of their CIEE Open Campus semester program are eligible to apply for the
Global Pioneer Award
. Students can complete the
Global Pioneer Award
application as a part of their post-acceptance materials after being accepted to the CIEE Open Campus program by SHU. Please contact the Office of Global Affairs Assistant Director
HERE
or schedule an advising appointment
HERE
to learn more about this scholarship opportunity.
Students in the
Thomas More Honors Program
are eligible to use a one-time study abroad scholarship of $500 towards the cost of their program. Students will need to apply for this scholarship post-acceptance within their study abroad accounts.
CIEE offers more than $8 million in scholarships and grants annually to help students like you make your study abroad dream a reality. Students who apply to this program are eligible for the following scholarships and grants:
Ping Scholarships for Academic Excellence
Global Access Initiative (GAIN) Grants
McDermott Health Sciences, Nursing, and Public Health Merit Scholarships
Stohl International Undergraduate Research Scholarships
CIEE Gilman Go Global Grant
To be considered, submit the CIEE Scholarships & Grants application within your CIEE program application. Learn more at the Scholarships & Grants
HERE
.
After first getting accepted through SHU on a rolling admissions basis, you will need to apply through CIEE and work with one of their admissions counselors.
Fall 2020 Dates
Block I: August 17, 2020 - September 26, 2020
Block II: September 28, 2020 - November 7, 2020
Block III: November 9, 2020 - December 19, 2020
Students staying at one location for all three blocks have long weekends in between in each block.
Students traveling between locations will have arrival orientations at the start of each block.