TerraDotta
Summer: Webster University in Austria
Vienna, Austria
Currently Not Accepting Applications
Located near the banks of the beautiful Danube and just a few blocks from the United Nations, Webster University in Austria features an American education in an active central European environment. At Webster Vienna, you will be joining a global community with classmates from more than 70 nations. Students at Webster Vienna are surrounded by a supportive and collegial community which provides the individual attention necessary for academic success and personal growth.

Webster Vienna offers a wide range of undergraduate majors and minors. Students can choose to take courses specific to their academic area or courses from the Global Citizenship Program (GCP), Webster's globally-focused general education program. GCP courses are regularly offered at Webster Vienna, allowing for a vast selection of general education courses. Undergraduate students can study abroad for one term, a summer, a semester or a full academic year.

Vienna is a city where old meets new. With an eclectic art and music scene, rich history and cultural heritage, Vienna attracts students from around the world. Students can often be found hanging out in classic Viennese coffee houses, touring modern art exhibits or partaking in one of the many outdoor activities that are popular in the region. For students who wish to explore more of Europe, many European capitals are within a three-hour flight from Vienna.


Dates and Deadlines
| Term | Year | Application Deadline | Decision Date | Start Date | End Date |
| --- | --- | --- | --- | --- | --- |
| TBD | TBD | TBD | TBD | TBD | TBD |
Program Description
Vienna, considered by many to be the cultural capital of Europe, is a city with unique flair, liveliness and charm. Generations of artists, students and connoisseurs of life have sought out Vienna for its inspirational art and architecture, parks and palaces, music and opera, and of course, the famous Viennese coffee houses. Vienna was selected "World's best place to live" in Mercer's annual Quality of Living Survey for five years in a row! (2009-2014). Like Geneva, Vienna is the home of many multinational headquarters for the CEE region and international organizations such as the United Nations, OSCE, OPEC, just to name a few. Vienna is located in the heart of Europe with easy access to many major European cities and historical sites.

The Vienna campus features modern classrooms, a library, computer equipment and laboratories, art studios, a student center, student lounges, a cafe/restaurant, and more. The Student Affairs Center is a popular place for studying, socializing, and watching English films. Annual activities include picnics on the river, entertainment and recreational trips, American holiday celebrations, and campus socials. The campus is right around the corner from parks, banks, grocery stores, postal services, and an amphitheatre.

The campus offers an abundance of space for student learning, studying and interaction including classrooms, academic and staff offices, recording studios, computer labs, and a library. The library consists of a physical collection of over 10,000 items, including DVDs & sheet music. It also includes an extensive online Library, which allows access to digital collections of academic journals in all subject areas, over 25,000 e-books, e-reference collections, educational streaming video sites, and training materials among other resources. Throughout the building there are places available for students to meet and study. A popular meeting point is the Student Lounge on the ground floor with a Starbucks coffee corner.. The campus is well served by public transport and is only 20 minutes from the city center.

Student Life

At Webster Vienna, the goal is to bring students together into one Webster community. The campus bridges cultural gaps by providing a variety of services and activities for students, such as New Student Orientation, welcome evenings, holiday celebrations, social and cultural activities, community service and sporting events.

Student support services are readily available at the Vienna Campus, including Student Counseling Services and Learning Support Services.

Orientation

Upon acceptance to the program, you will be required to attend a mandatory pre-departure orientation organized by SHU's Office of Global Affairs. During this orientation, further details about the course and program details will be discussed. Pre-departure orientations for Summer programs are held in April.

Upon arrival in Vienna, you will attend an additional mandatory orientation, on-site at the local campus. You will receive information about the campus, the culture and the expectations as a student. You will also have a chance to mingle with the local students as well during Webster's orientation.
Austria, "the Eastern Realm" or "Eastern Empire", is a German speaking country located in Central Europe. Along with neighboring Switzerland, is the winter sports capital of Europe; yet, it is just as popular for summer tourists who visit its historic cities and villages and hike in the magnificent scenery of the Alps. Slightly smaller than Maine, the mountainous territory of the eastern Alps comprise about 75 percent of the area. Austria's landscapes are incredibly varied and the options are endless, be it a relaxing walk or experiencing the great outdoors of the Alps. Keep in mind that you are never far from historic city centers, cultural events, and more!

As a European crossroads, Vienna's proximity to Eastern Europe attracts a richly multinational population. The presence of multinational banks, businesses, and the United Nations all contribute to the diversity of this cultural city. Generations of artists, students and connoisseurs of life have sought out Vienna for its inspirational art and architecture, parks and palaces, music and opera, and of course, Kaffehaueser (coffee houses).
Sacred Heart students can study in Vienna this summer, taking one course with Dr. Meyers (MUSC 1070) and choosing another course from among many exciting offerings at Webster Vienna.
MUSC 1070 Viennese Vibes
Fulfills MU 299 Viennese Vibes at SHU
This course will investigate the music of Vienna, Austria, and its relation to the country's cultural and social life. Through the development and practice of observation, listening skills, peer work and daily writing students will experience and evaluate Vienna's musical culture. Daily excursions will allow the student to be fully immersed in a new musical culture by attending performances, taking tours, along with listening to music as a local. Observations, readings and discussions will explore how music and culture relate and how they relate to musical culture in the United States.
When looking for courses, be sure that you are looking at courses for undergraduate students only and that you are looking at classes in the correct term of study. All courses are taught in English by highly qualified faculty. Undergraduate students of all majors are welcome to study abroad at Webster Vienna even if their major is not offered in full at the campus. Webster Geneva offers a wide variety of general education courses and electives in addition to core courses for majors such as Business Administration, International Relations, Management, Media Communications and Psychology.
Summer 2020 Courses
College of Arts and Sciences
INTL 4600: International Relations Seminar
PHIL 2610: Intermediate Reading: Capitalism and its Discontents
POLT 2550: Politics of the Developing World
PSYC 2000: Issues in Contemporary Psychology
PSYC 3325: Applied Learning Theory
WGST 1020: Introduction to Women, Gender, and Sexuality Studies
College of Fine Arts
MUSC 1070: Viennese Vibes
School of Business and Technology
CSIS 1500: Introduction to Business Technologies
MNGT 3470: Women in Management
MNGT 3700: Introduction to Entrepreneurship and Small Business Management
MNGT 3730: Innovation, Creativity, and the Entrepreneur
Please see
here
for a list of past course offerings
Eligibility
You must have an overall GPA of 2.5 and be in good disciplinary and financial standing with SHU.
Course Credit
SHU approved courses taken on this program will count towards your general graduation total. Course grades will also factor into your cumulative Grade Point Average (courses are not available for Pass/Fail).
Students can reference the
Course Equivalency Database
to see which courses have already been approved. Approval for courses not yet approved can be requested through the Office of Global Affairs. Email
adlon-placee@sacredheart.edu
for more information.
Housing is
included as part of your SHU study abroad program fees.
Milestone Vienna Campus - Milestone is an all single-apartment style international student residence hall, about 15 minutes from the Webster Vienna campus. Each room in Milestone is a 20-square meter, single-accommodation, apartment style room. It will be fully furnished with a bed and linens, and also include the following amenities:
Desk
Kitchenette (with microwave and refrigerator)
Private bathroom
Safe with digital lock
French window
Closet and shelf storage
Unlimited high-speed wireless internet
Onsite laundry
Location
Milestone is in Vienna's second district and only a short 15 minute commute to the Webster Vienna campus. The area in which you'll be located is very pleasant, with a lot of things to see and do right around the dormitory. There is a large park, nightclubs, restaurants and pubs, museums, and even an amusement park just a short walk away.
You can learn more about housing at Webster University in Vienna
here
.
Meals are
NOT
included as part of your SHU study abroad program fees.
The campus has a cafe and restaurant and there are many local restaurants nearby.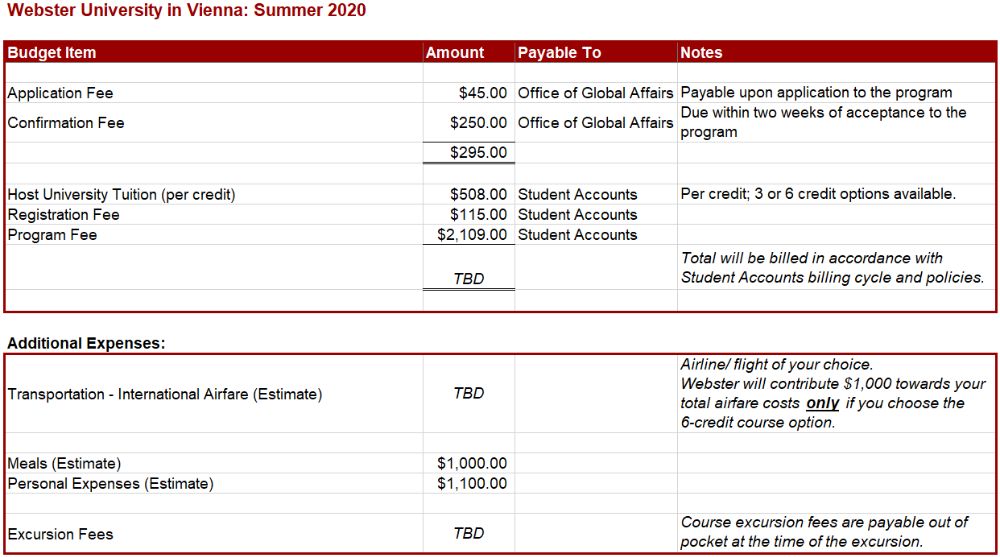 Please note: all costs subject to change.
Fees Include:
Program orientation, arrival airport transfer, and mandatory basic international health insurance.
Fees

DO NOT

Include:
Travel to/ from host country, major medical insurance, on-site course fees, visa/ resident permit fees, program materials, or any personal expenses.
Additional Billing Information:
All expenses are subject to change based upon currency fluctuations, flight demand, personal spending habits, etc. Actual expenses may be more or less than the listed estimates.
Please Note: Program withdrawal fees, penalties, and refunds are subject to the withdrawal policies of each program.

Scholarships and Financial Aid:
Scholarships are a great way to support the cost of your study abroad experience. In an effort to encourage you to study abroad, and to make a study abroad experience more accessible, the SHU Office of Global Affairs prepared a list of scholarships and financial resources. Please note that this is not a conclusive list but it will help you start your search process. The OGA encourages you to apply and take advantage of as many relevant scholarship opportunities as possible.
Please speak with
Student Financial Assistance
to determine how your aid package will apply towards studying abroad.
Please ensure applications for the Welch Tuition Waiver, Thomas More Honors Program Scholarship, and/or Matthew R Dalling Scholarship are submitted by the specified deadline. Applications and corresponding deadlines can be found in your Study Abroad Account. Failure to submit applications by the specified deadline may cause the scholarship dispersal to be significantly delayed.
If you receive scholarships, grants, or financial aid through SHU, these awards are posted to your Student Account according to the normal disbursement schedule.
Please contact the Office of Global Affairs directly for further information.
The
Webster WINS Travel Award
is available to students participating in a Webster University study abroad program who are enrolled in a total of 6 credits for the summer term. The award covers up to $1,000 towards your round-trip airfare. For more information please visit the WINS Award web page
here
.
Students in the
Thomas More Honors Program
are eligible to use a one-time study abroad scholarship of $500 towards the cost of their program. Students will need to apply for this scholarship post-acceptance within their study abroad accounts.
August to December (fall semester) or January to May (spring semester)
Webster University will communicate directly to enrolled students all Move In, Orientation, and Move Out Dates.
Please note, all dates are subject to change. Do not book your flight until you have been accepted by Webster University and your Move In and Move Out dates have been confirmed.
Summer 2020
Arrival Date: TBD
On-Site Orientation: TBD
Classes: May 25, 2020 - June 26, 2020
Move Out: TBD - dependent on dates of Final Exams