TerraDotta
Summer: Fashion Brand Marketing - Milan
Milan, Italy
Currently Not Accepting Applications

Milan is one of the top international centers for fashion, finance and commerce and home to the Italian stock exchange and many large industries. It's perfect for students interested in a faster-paced medium to larger city, show a general interest in Business and Fashion, and who are looking for a more modern European city. Students willl have the opportunity to experience classic Italian style as Milan is home to cultural delights such as; Leonardo da Vinci's Last Supper, the Duomo and Castello Sforzesco. Students are bound to fall in love with the city's unique mix of German, French, Gothic, and of course, Italian influences.

Dates and Deadlines
| Term | Year | Application Deadline | Decision Date | Start Date | End Date |
| --- | --- | --- | --- | --- | --- |
| TBD | TBD | TBD | TBD | TBD | TBD |
Program Description
Milan is unique for its combination of a rich history that's directly impacted the cultural trends that shape the modern world. Home to the Milan Cathedral, perhaps the most important example of Gothic Architecture in all of Italy, it's a city that's long influenced the cultural trends of its neighbors. As the center of industry during WWII it also suffered lots of bombing and much of the city's beautiful buildings were destroyed. Today, modern skyscrapers compete with Gothic masterpieces, each of which stand in awe of the Alps that loom in the distance (on a clear day). In the 1950's a Fashion revolution emerged from Milan, one that continues to this day. The city is the world's fashion design and business Zeitgeist. Home to Armani, Versace, Prada, and Dolce & Gabbana, Milan is the cutting edge when it comes to fashion, and a must for fashion interns globally.
View the Summer 2018 program brochure here:
Info Packet (18SU Fashion Brand Marketing - Milan)
Fashion Marketing and Merchandising Info Session Presentations Summer 2020
FMM 350 Fashion Brand Marketing

This course encompasses the history, development, and process of brand marketing in the fashion industry. The array of national, designer, private label, store and corporate brands, their background, and developmental strategies will be covered. Through the understanding of brand elements, brand equity and brand communications, you will create a positioning brief, and launch your own fashion brand as a final project.

In addition, the course will emphasize the use of branding elements such as name, symbols, logotype, color, and the creative elements of fine advertising. In doing business on an international scale, firms must decide what level of adaptation they must use in order to capture a foreign market. The course will cover this topic of adaptation through visits to design studios, show rooms, and retailers where our students will see decisions made on which adaptations are best suited for the Italian market. Licensing of brand names will be strongly emphasized in the course.

As a final project you will do a business plan where you will set up a licensing arrangement between a United States firm and an Italian company. This project encompasses the pairing of two firms, where their product lines, channels of distribution, and corporate cultures are compatible for a joint economic return.

Eligibility

You must be in good academic, disciplinary, and financial standing with SHU. You must have successfully completed MK 201 Principles of Marketing in order to enroll in the FMM 350 Study Abroad Program.

Course Credit

SHU approved courses taken on this program will count towards your general graduation total. Course grades will also factor into your cumulative Grade Point Average (courses are not available for Pass/Fail). Email adlon-placee@sacredheart.edu for more information.


Accommodations at
Hotel Sempione
and some meals are included as part of your study abroad program fees. The hotel includes daily breakfast, but you will be responsible for daily lunches and dinners. A Welcome meal and Farewell meal are included.
Excursions on this program may include:
Full Day trip to Como for a fashion textile factory visit and and boat tour of the Lake Como
Guided museum visits including the Armani Museum
Guided visits to the Fashion District, Fashion Library, and local fashion industry businesses
Full Day trip to Venice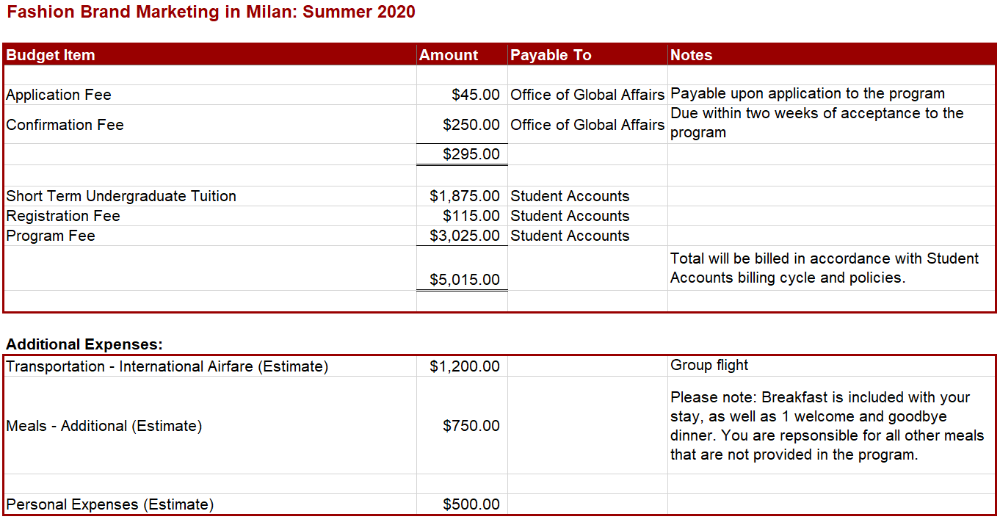 Please note: all costs subject to change.

Fees Include:

Program orientation, housing, some meals, arrival airport transfer when arriving with group flight, and mandatory basic international health insurance.


Fees

DO NOT

Include: Travel to/ from host country, major medical insurance, on-site course fees, program materials, or any personal expenses.

Additional Billing Information:
All expenses are subject to change based upon currency fluctuations, flight demand, personal spending habits, etc. Actual expenses may be more or less than the listed estimates.
Please Note: Program withdrawal fees, penalties, and refunds are subject to the withdrawal policies of each program.


Scholarships and Financial Aid:

Scholarships are a great way to support the cost of your study abroad experience. In an effort to encourage you to study abroad, and to make a study abroad experience more accessible, the SHU Office of Global Affairs prepared a list of scholarships and financial resources. Please note that this is not a conclusive list but it will help you start your search process. The OGA encourages you to apply and take advantage of as many relevant scholarship opportunities as possible.

Please speak with Student Financial Assistance to determine how your aid package will apply towards studying abroad.


Welch Waiver - Applicable to Business Majors ONLY
If you are a College of Business student (at SHU), currently enrolled in The Welch Experience, and have not yet utilized your study abroad tuition credit, you are eligible to use the Welch Waiver ($1,875) towards your Summer tuition for the SHU in Dingle program. In order to take advantage of the waiver program you will need to complete the Welch Waiver application, located within your study abroad account.
Please ensure applications for the Welch Tuition Waiver, Thomas More Honors Program Scholarship, and/or Matthew R Dalling Scholarship are submitted by the specified deadline. Applications and corresponding deadlines can be found in your Study Abroad Account. Failure to submit applications by the specified deadline may cause the scholarship dispersal to be significantly delayed.
If you receive scholarships, grants, or financial aid through SHU, these awards are posted to your Student Account according to the normal disbursement schedule.
Please contact the Office of Global Affairs directly for further information.
Summer 2020
Depart US: May 28, 2020
Arrive in Milan/Program Start Date: May 29, 2020
Depart Milan/Program End Date: June 12, 2020
"I am so grateful for this opportunity because I learned so much academically, and about myself and another culture. It has made me a more well-rounded student and person as I was able to step out of my comfort zone. I fell in love with the city, the program and would definitely recommend this program in particular to students interested in studying abroad who are in the fashion program at SHU." - Briana Andreoli, Summer 2016

"The host institution was just great with all the tours and guides that knew where to take us and how to get there. We were able to ask about any information that we possibly needed! Anyone would be so lucky to take this class and study abroad!" Bailey Patridge, Summer 2016

"This was one of the best decisions of my college career. Not only was I able to visit a country I've been dreaming about since I was a little girl, I was able to combine it with my love of fashion, and my program of study. Every day is something new and exciting while you are abroad, and I wish I could relive [this] experience over and over again." - Haley Blanchard, Summer 2016