TerraDotta
Summer: Analysis of Comparative Health Care Systems
Luxembourg City, Luxembourg
Currently Not Accepting Applications
This is your chance to study abroad at Sacred Heart University Luxembourg, a well-established campus in the heart of the European Union. The SHU in Luxembourg program is housed in the Chamber of Commerce, right in the heart of the financial district of the city. The campus was established in 1991 as a SHU MBA site, and now also hosts SHU's undergraduate summer study abroad program.
Dates and Deadlines
| Term | Year | Application Deadline | Decision Date | Start Date | End Date |
| --- | --- | --- | --- | --- | --- |
| TBD | TBD | TBD | TBD | TBD | TBD |
Program Description
Located at the crossroads of Germanic and Latin cultures, the Grand Duchy of Luxembourg is a landlocked country bordered by Belgium, France, and Germany. It is the only Grand Duchy in the world and is the second smallest of the European Union member states. Though too small for its full name to fit on most European maps, pint-sized Luxembourg — only 2586 sq. km — is wonderfully diverse, filled with lush highlands and valleys in the north and ancient forested landscape to the east. With a strategic location at the heart of Western Europe, more natural beauty than you might expect in given its size, and as one of the top three richest countries in the world, Luxembourgers enjoy a very high standard of living. Luxembourg has a lot of charm and its people are justifiably proud of their country. The nation's motto, "Mir wëlle bleiwe wat mir sinn" (We want to remain what we are), underlines the uniqueness of Luxembourg.
Luxembourg City is the cultural, political, and social heart of the country. Not only is it the country's capital, it is also one of the three capitals of the European Community (the other two being Strasbourg and Brussels). Luxembourg City is cosmopolitan city and at the center of a thriving banking and corporate community. Not only that, the city is surrounded by magnificent historical fortifications classified as a UNESCO World Heritage site. The City of Luxembourg is served by an efficient network of buses and the main center of the city is very compact and eminently walkable. It is also a perfect location for day trips to France and Germany via train.
Course is open to Graduate Students obtaining their Doctor of Physical Therapy.

PT 599 Comparative Health Care Systems; an International Perspective (3 credits)

This course will compare characteristics of health care delivery, the demands/needs of the population and how societies respond differently to these demands/needs in the US and selected European countries. The perspectives of patients/consumers, health care providers and policy-makers will be considered. Additionally the course will explore ways in which societal expectations, health care financing, and national priorities influence the delivery system. The course will be taught in a two-week, intensive format in Luxembourg with morning classes both classroom and experiential activities. Students will participate in field visits to selected health care institutions and organizations in Luxembourg, France, Germany, and the US military hospital at Landstuhl, Germany. Students will also explore a physical therapy education program at SRH Hocshule Heidelberg and participate in an exchange of information with students from that program. Preparatory reading will be required prior to the two week course, and synopsis paper will be due two weeks following the course.

Course Credit

This course will count towards your general graduation total. This course will also factor into your cumulative Grade Point Average (course is not available for Pass/Fail).
Dr. Donna Bowers joined SHU in 1997 after 13 years as a pediatric clinician. She obtained her Bachelor of Science in Physical Therapy from Northeastern University in 1984, her Master of Public Health degree from Southern Connecticut State University in 2002, and her Doctor of Physical Therapy from MGH Institute of Health Professions. She is a credentialed Fellowship Graduate of the Educational Leadership Institute of the American Board of Physical Therapy Residency & Fellowship Education. She previously served on the Pediatric Specialty Council of the American Board of Physical Therapy Specialties and has served as a member of the Specialization Academy of Content Experts in the area of pediatrics. While Chair of the APTA Section on Pediatrics Public Relations Committee, she spearheaded national health promotion campaigns for children. Her clinical practice is in outpatient pediatrics. Donna currently serves as the Assistant Program Director of the Program In Physical Therapy and teaches in the areas of neurology, pediatrics, professional practice and development, healthcare systems, health promotion and wellness.
Housing is included as part of your study abroad program fees
Take a break at the
Novotel Suites Luxembourg hotel
. This 4-star hotel, situated on the Kirchberg plateau, close to the city center, is perfect for your business trips and weekend getaways. The Novotel Suites Luxembourg hotel boasts spacious yet inviting modular Suites measuring 323 sq. ft. (30 m²). The Suites combine stylish decor and maximum comfort. The hotel also has a bar and a Boutique Gourmande for food lovers. Unwind in the fitness room or explore the attractions of the capital of the grand duchy.
Some meals are included as part of your study abroad program fees
On most days, one to two group meals will be included in your program fees. This meal is usually breakfast. Exceptions include when on day-long or overnight excursions, or free days. When meals are not included you will have the opportunity to explore local restaurants in the city or adjacent to your accommodations. During orientation, a schedule of included meals will be provided.
In addition to taking classes, local field trips and community-based projects will give you the opportunity learn firsthand the lessons and theories of the classroom. Past excursions have included:
Visits to local hospitals and professional associations
Day trip to Metz
Overnight to Heidelburg, Germany
Cathedrals, monuments and other various cultural and historical sites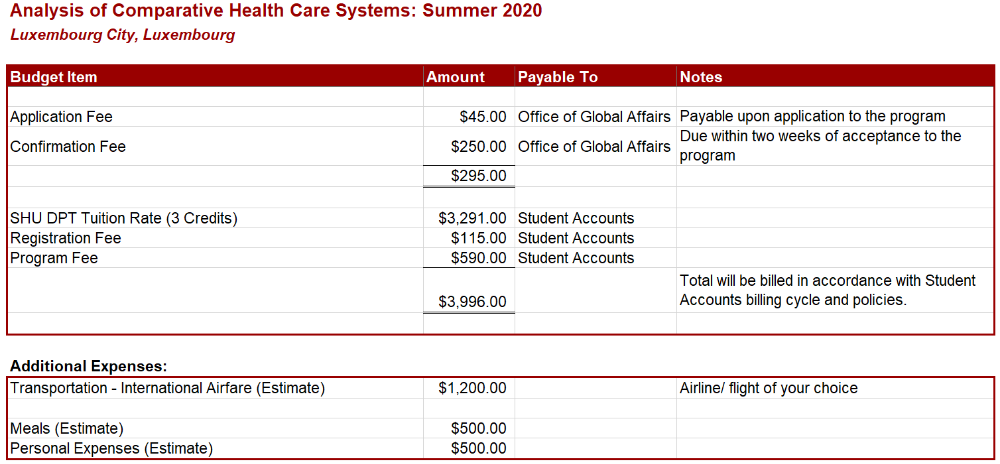 Please note: all costs subject to change.
Fees Include:
Local transportation passes, academic and cultural activities and excursions in Luxembourg City, Metz, Landstuhl, and Heidelberg, some group meals, shared housing in hotel accommodations with breakfast (daily), 24/7 emergency support, and mandatory basic international health insurance.
Fees

DO NOT

Include:
International airfare, individual lunches and dinners, major medical insurance, and all personal expenses.
Additional Billing Information:
All expenses are subject to change based upon currency fluctuations, flight demand, personal spending habits, etc. Actual expenses may be more or less than the listed estimates.
Please Note: Program withdrawal fees, penalties, and refunds are subject to the withdrawal policies of each program.
Please contact the Office of Global Affairs directly for further information.
Summer 2020
August 23: Arrive in Luxembourg
August 24: Class begins
September 3: Class ends
September 4: Return to the US