Currently Not Accepting Applications
This two-week intensive program at the beginning of January takes place in the idyllic location of SHU's Center for Irish Cultural Studies which is the "best of both worlds" since it provides visitors with all of the amenities of a tourist haven, but in an authentic setting with traditional Irish culture. Dingle is a place with welcoming locals and many hospitable places in which to meet them: tremendous learning resources, magnificent relics, ruins and holy places, outstanding access to other areas of the country-and to Europe, immersive activities and opportunities to try something new, and a vast, living record of folklore, celebrations, history and authentic music and dance. If you wish to experience all that Ireland has to offer, the Dingle Peninsula Gaeltacht is where you want to be. In Irish, "An Gaeltacht" refers to the few areas in Ireland in which Irish is the community language of the people. In these areas, people work to preserve the vitality of the language and all aspects of Irish culture.
Dates and Deadlines
| Term | Year | Application Deadline | Decision Date | Start Date | End Date |
| --- | --- | --- | --- | --- | --- |
| TBD | TBD | TBD | TBD | TBD | TBD |
Program Description
Upon acceptance to the program, you will be required to attend a mandatory pre-departure orientation. During this orientation, further details about the course and program details will be discussed. The pre-departure orientation will be conducted at the end of April for the fall term abroad and in late November/early December for the spring term abroad
Upon arrival at Dingle you will attend a mandatory orientation day. This is an important and informative set of sessions organized by the Resident Director of Sacred Heart Universities Dingle campus. The information at these sessions includes:
A familiarization tour of Dingle with the SHU Resident Director, Seán Pól Ó Conchúir;
Information from the Resident Director outlining life in Dingle, including cultural difference, safety information, and ways to get involved in community life;
An introduction to academic expectations;
A welcome meal — this is a great opportunity to meet other students on the program.
Complementing the traditional culture are the modern amenities that make Dingle ideal: banking institutions, high-quality medical facilities, retail shops, accessibility of bus and train services, a regional airport for travel throughout Europe and proximity to larger towns and cities such as Tralee, Cork and Killarney. Your home base is in the heart and soul of the Peninsula, Dingle Town - a thriving Irish fishing port teeming with restaurants, shops and lively pubs. Both instrumental music and song have a long tradition in the area, and Dingle is renowned among music-lovers, in fact, a variety of music can be heard any night of the week.
The curriculum of the intensive program offers a wide range of courses in the arts and humanities, physical and social sciences, business and professional fields. Courses include local field trips and community-based projects that give you the opportunity learn firsthand the lessons and theories of the classroom.

You will enroll in one (1) course and receive 3 Sacred Heart University credits.

Tentative Courses for Winter 2021 (courses subject to change depending upon enrollment)

BI104/258 Coastal Ecology of Ireland

BI199/HI299 Pubs, Pints, and Poitin

BI299 Feast Famine, Fever, and Fermentation

CM132/HI255 Irish Identity in History and Media

EC295 Contemporary Topics in Economics: Ireland

EC299 Economic Valuation of Environmental Resources

ED341/541 Irish & American Education in Comparative Perspective

EX299 Health & Fitness: An Irish Perspective

HS230 Introduction to Global Health

HS336 Childhood Health Inequities

MK299 Tourism/Environmental Resources

NU370 Nursing Leadership

SM265 Sports Marketing

TRS271 Celtic Religious Traditions

Housing is included as part of your study abroad program fees
While in Dingle, you will live in
Glor na Habhann
, new and fully furnished townhouse-style residences, just a few minutes walk from the SHU classroom building and markets, tourist attractions, theatres, and other amenities. Each residence includes a fully appointed kitchen, washer and dryer, two bathrooms, fireplace, television, and wireless internet service.
Dinner is provided on the day of arrival as well on class days. Otherwise, your cottage is equipped with kitchen facilities and supplies so you can prepare meals at ease. Several local grocery stores are within walking distance — prepare an Irish delicacy by cooking in the cottage or try out a reasonably priced meal at the local pub!
This program includes an abundance of site visits and cultural activities so that you will have the opportunity to experience of Ireland to its fullest. Excursions and cultural activities during the winter term may include:
Walking "The Saint's Path" with a local expert on all things Dingle
Archaeological tours to sites on the Peninsula
A night at a traditional Irish singing club
Irish set dancing lessons
Cycling in the Killarney National Park
Day trip around the beautiful and majestic Ring of Kerry
Pottery night where you can decorate your own pottery mug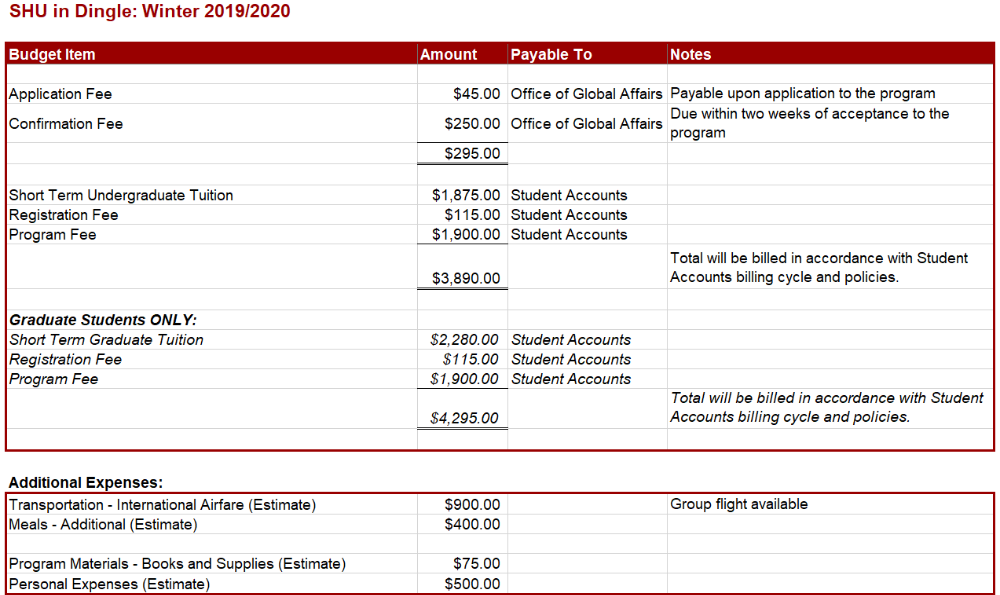 Please note: all costs subject to change.
Fees Include:
Program orientation, arrival airport transfer, and mandatory basic international health insurance.
Fees

DO NOT

Include:
Travel to/ from host country, major medical insurance, on-site course fees, visa/ resident permit fees, program materials, or any personal expenses.
Additional Billing Information:
All expenses are subject to change based upon currency fluctuations, flight demand, personal spending habits, etc. Actual expenses may be more or less than the listed estimates.
Please Note: Program withdrawal fees, penalties, and refunds are subject to the withdrawal policies of each program.

Scholarships and Financial Aid:
Scholarships are a great way to support the cost of your study abroad experience. In an effort to encourage you to study abroad, and to make a study abroad experience more accessible, the SHU Office of Global Affairs prepared a list of scholarships and financial resources. Please note that this is not a conclusive list but it will help you start your search process. The OGA encourages you to apply and take advantage of as many relevant scholarship opportunities as possible.
Please speak with
Student Financial Assistance
to determine how your aid package will apply towards studying abroad.
Welch Waiver
If you are a College of Business student (at SHU), currently enrolled in The Welch Experience, and have not yet utilized your study abroad tuition credit, you are eligible to use the Welch Waiver ($1,875) towards your winter tuition for the SHU in Dingle program. In order to take advantage of the waiver program you will need to complete the Welch Waiver application, located within your study abroad account.
Please ensure applications for the Welch Tuition Waiver, Thomas More Honors Program Scholarship, and/or Matthew R Dalling Scholarship are submitted by the specified deadline. Applications and corresponding deadlines can be found in your Study Abroad Account. Failure to submit applications by the specified deadline may cause the scholarship dispersal to be significantly delayed.
If you receive scholarships, grants, or financial aid through SHU, these awards are posted to your Student Account according to the normal disbursement schedule.
Visiting Students – If you receive a financial aid package from your home institution, please check with your Study Abroad/Financial Aid Office to find out if it may be used for this program. Upon request, the Office of Global Affairs may provide your institution with the necessary documentation to support the transfer of aid. Please note that Sacred Heart University will not process financial aid for visiting students.
Please contact the Office of Global Affairs directly for further information.
Scholarships are a great way to support the cost of your study abroad experience. In an effort to encourage you to study abroad, and to make a study abroad experience more accessible, the SHU Office of Study Abroad prepared a
list of scholarships and financial resources
. Please note that this is not a conclusive list but it will help you start your search process. The OGA encourages you to apply and take advantage of as many relevant scholarship opportunities as possible.
Winter 2021
Oct 1: Application deadline
Dec 26: Depart US
Dec 27: Arrive Ireland
Jan 9: Depart Ireland/Return US
Please note that all dates are subject to change. Do not book your flight until you have been accepted to the SHU in Dingle program and the academic dates have been finalized and confirmed.
"I loved every part of the program. I felt really connected to the town of Dingle and everyone was very helpful and friendly. I made a group of friends from SHU that will last a lifetime." - Thomas Spierto, communication major
"It is life changing and the best decision I could have made for my winter break! If one can study abroad, you definitely should!" Megan Grimes, marketing major
"I had a great time in Dingle. The food was great, people were very welcoming, and everything was walking distance, and I felt safe." Hussani Neelab, marketing major
"I made friends with many of the local people in Dingle, many people on the trip and learned so much about Irish customs and traditions. I loved the beautiful land that I was able to explore and the memories that got my threw one of the hardest points in my life. Thanks to the Dingle winter trip I learned that not only was Sacred Heart my home away from home, but traveling was a huge passion of mine and something that I hope to do more of in the near future." - Jessica Duthie, Athletic training major