TerraDotta
University of Notre Dame Australia in Sydney
Sydney, Australia
Currently Not Accepting Applications
UNDA is a private Catholic university committed to ensuring that students receive a personalized, high quality education. Established in 2006, the Sydney Campus has two centrally located sites, one in the hub of Sydney's university precinct in Broadway and one in the bustling city suburb of Darlinghurst. The Broadway Site houses the school of Arts & Sciences; Business; Education; Law and Philosophy & Theology. The Darlinghusrt site, a custom- built facility for training health professionals, is home to the Schools of Medicine and Nursing. UNDA's Catholic tradition is reflected in its style of education, its commitment to pastoral care of students, and its encouragement of a spirit of community service and social justice awareness.

Notre Dame's Sydney Campus is located on two sites, Broadway and Darlinghust. Both sites are conveniently located near public transport, shops, cafes and the CBD. Housing options are available at both the Broadway and Darlinghurst locations.

The Broadway Site houses the schools of Arts & Sciences, Business, Education, Law and Philosophy & Theology. It is located in the higher education precinct of Sydney, a five-minute walk from Central train station, with buses arriving on the University's doorstep, and 10 minutes from Darling Harbor, the Chinese Gardens and King Street wharf.

The Darlinghurst Site is home to the schools of Medicine and Nursing. The site is situated east of the CBD with Oxford Street running through the center of the suburb. The Art Gallery of NSW, the Sydney Botanical Gardens, St Mary's Cathedral and Hyde and Centennial Parks are all near the Darlinghurst vicinity.
Dates and Deadlines
| Term | Year | Application Deadline | Decision Date | Start Date | End Date |
| --- | --- | --- | --- | --- | --- |
| TBD | TBD | TBD | TBD | TBD | TBD |
Program Description
Australia enjoys a special reputation as being one of the most culturally diverse countries in the world, with a deep respect for its multiculturalism and cultural heritage. New South Wales (NSW) is the gateway to Australia and, with over seven million people, its most populous state. A mix of urban and Outback, New South Wales offers a multitude of experiences, with plenty of things to see and do which suit all tastes and interests, whether that be natural wonders to investigate, white sandy beaches to relax on, historical sites to visit, or friendly country communities to explore. Whatever you choose, New South Wales will an experience you won't soon forget.
Sydney is one of the best-known Australia cities. Over half of the population of NSW calls Sydney their home. It has Australia's largest central business district (CBD) and is home to two famous icons — the famous Sydney Harbor Bridge and the Sydney Opera House. Sydney is a highly multicultural city with half of its residents being born overseas and boasts all the excitement and convenience of a global modern city. With its numerous festivals, vibrant performing arts scene and iconic good weather, the city makes for an ideal study abroad destination.
Spring 2020 Study Abroad Course Syllabi Guide Coming Soon
When looking for courses, be sure that you are looking at courses for undergraduate students only and that you are looking at classes in the correct term of study. Since UNDA is in the southern hemisphere, the terms are reversed. The fall semester at SHU is listed as Semester 2 at UNDA and the spring semester at SHU is listed as Semester 1 at UNDA. You will need to be sure that you are registered as a full time student according to the University of Notre Dame and Sacred Heart University. That means you will take 12-15 SHU credits (4-5 courses) while at UNDA.
Course Credit
SHU approved courses taken at UNDA will count towards your general graduation total. Courses will also factor into your cumulative Grade Point Average (courses are not available for Pass/Fail).
Upon acceptance to the program, you will be required to attend a mandatory pre-departure orientation. During this orientation, further details about the course and program details will be discussed. The pre-departure orientation will be conducted at the end of April for the fall term abroad and in late November/early December for the spring term abroad.
Upon arrival at UNDA, you will attend a mandatory orientation week. This is an important and informative set of sessions organized by the UNDA Student Life Office. The information at these sessions includes:
Introduction to key staff from the Study Abroad Office and the Student Life Office;
Enables you to network with other International, Study Abroad and Domestic students;
Highlights student services and facilities;
Discusses University life;
Showcases Student Associations and Clubs;
Provides information on Student Visa requirements;
Provides information on Overseas Student Health Cover (OSHC);
IT and Library Orientation;
Provides information regarding religious facilities and on/off-campus support.
Housing is NOT included as part of your study abroad program fees. UNDA Sydney does not offer on-campus accommodations, but does offer accommodation information services to assist students in identifying off-campus housing options. Please note that these accommodations are independent of UNDA.
Accommodation options have previously included:
Renting a House or Apartment
Local real estate agencies and private owners advise UNDA when houses and apartments become available for rent in the Sydney city district. Rental properties can be furnished, partly furnished or unfurnished. When considering renting a property, you should be aware that landlords require rent to be paid in advance and also require the payment of a security bond equal to one month's rent. For information regarding the Residential Tenancies Act 2010 please refer to the NSW Department of Fair Trading website
Renting a Room
In Sydney, there are limited opportunities to rent an individual room in a house or apartment. This style of accommodation usually involves access to a private bedroom and study area, while the bathroom, kitchen, and living areas are shared between tenants. Expenses such as power, gas, telephone and excess water are normally paid in addition to rent.
Meals are NOT included as part of your study abroad program fees. Accommodations are generally equipped with kitchen facilities so you can prepare meals at ease. Local grocery stores are within walking distance to each facility and can also be reached by public transportation.
*Please note: Full Time Undergraduate Tuition Rate is Subject to Change for Academic Year 2019 - 2020*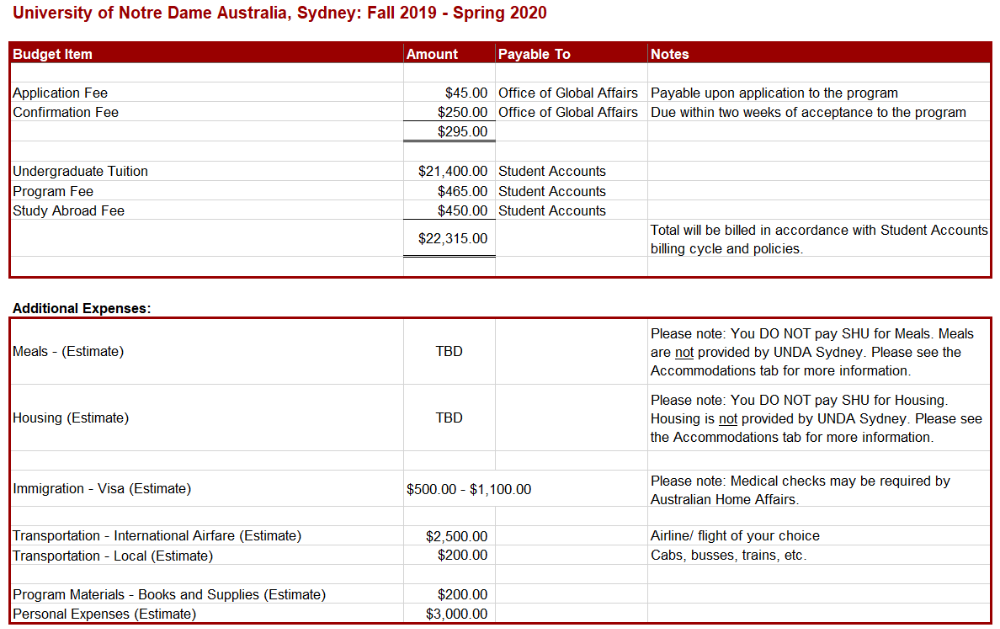 Please note: all costs subject to change.
Fees Include:
Housing, weekly community dinners, local health insurance, student ID card, program orientation, arrival airport transfer, and mandatory basic international health insurance.
Fees

DO NOT

Include:
Travel to/ from host country, major medical insurance, on-site course fees, visa/ resident permit fees, program materials, or any personal expenses.
Additional Billing Information:
All expenses are subject to change based upon currency fluctuations, flight demand, personal spending habits, etc. Actual expenses may be more or less than the listed estimates.
Please Note: Program withdrawal fees, penalties, and refunds are subject to the withdrawal policies of each program.

Scholarships and Financial Aid:
Scholarships are a great way to support the cost of your study abroad experience. In an effort to encourage you to study abroad, and to make a study abroad experience more accessible, the SHU Office of Global Affairs prepared a list of scholarships and financial resources. Please note that this is not a conclusive list but it will help you start your search process. The OGA encourages you to apply and take advantage of as many relevant scholarship opportunities as possible.
Please speak with
Student Financial Assistance
to determine how your aid package will apply towards studying abroad.
Please ensure applications for the Welch Tuition Waiver, Thomas More Honors Program Scholarship, and/or Matthew R Dalling Scholarship are submitted by the specified deadline. Applications and corresponding deadlines can be found in your Study Abroad Account. Failure to submit applications by the specified deadline may cause the scholarship dispersal to be significantly delayed.
If you receive scholarships, grants, or financial aid through SHU, these awards are posted to your Student Account according to the normal disbursement schedule.
Please contact the Office of Global Affairs directly for further information.
Fall: July to November (fall semester) or February - June (spring semester)
Fall 2019
Arrival Date: July 22, 2019
On-Site Orientation: July 22, 2019 - July 26, 2019
Classes: July 29, 2019 - TBD
Departure: November 23, 2019 - Dependent on dates of final exams
Spring 2020 Dates
Arrival Date: Students will have mandatory orientation beginning Wednesday February 12, 2020. Students will need to secure housing that allows them to arrive to Sydney and move in
no later than
Tuesday February 11, 2020.
On-Site Orientation: Begins February 12, 2020
Classes: February 17, 2020 - TBD
Departure: Students will have examinations through Friday June 12, 2020. Students should secure housing that allows them to be in Sydney through
at least
Saturday June 13, 2020.
UNDA Fremantle will communicate directly to enrolled students all Move In, Orientation, and Move Out dates.
Please note, all dates are subject to change. Do not book your flight until you have been accepted by UNDA Fremantle and your Move In and Move Out dates have been confirmed.