TerraDotta
Webster University in the Netherlands
Leiden, Netherlands
Currently Not Accepting Applications
The Webster Leiden Campus was founded in 1983, and is set in an ideal location between The Hague and Amsterdam. Webster University Leiden's charming campus is located along one of Leiden's many canals, in the historic center. The intimate setting offers small class sizes and the personal environment means that it is easy to get to know most of your fellow students, as well as faculty and staff.

One of the Netherlands best kept secrets, Leiden is a charming university town known for its welcoming student-centered atmosphere – where you see lofty windmills, bicycles, picturesque canals and charming buildings all in one place. The city has been a center of historical and commercial importance for centuries, where new ideas and philosophies were explored and education cultivated. The vibrant city center contains a wide variety of stores, restaurants and cafés nestled between quaint streets and charming canals. Whether you fancy the arts, nature or sports, you'll feel right at home.
Dates and Deadlines
| Term | Year | Application Deadline | Decision Date | Start Date | End Date |
| --- | --- | --- | --- | --- | --- |
| TBD | TBD | TBD | TBD | TBD | TBD |
Program Description
Leiden boasts a rich cultural and commercial history famous for its canals, quaint alleyways and national museums. Leiden's vibrant city center offers a wide variety of shops, cafés and museums. The city is also located within a short distance from major cities such as The Hague and Amsterdam. And, if you ever need a break from the city, Leiden is only 20 minutes away from several beautiful North Sea beaches.

Webster University enjoys the many advantages of being in a town whose primary business is students. Located along one of Leiden's many canals, the Webster campus houses classrooms, offices, a library, and a student lounge. The intimate campus with a student population of 450 students, small class sizes, and the personal environment mean that it's easy to get to know most of your fellow students, as well as faculty and staff. Webster University's Leiden campus fits well into this compact and intellectually rich community.

Student Life

Students contribute enormously to Webster's vibrant campus and community through the generous volunteering of their time and energy for various activities and events.For example, students can help out with annual events such as the Graduation Ceremony, BBQ's, Thanksgiving dinner, Holiday Evenings, SGA events, European Webster football tournament, Community Service Day and others. The Student Services team at Webster Leiden can help you make the most of being in Leiden with information on the local area, activities and events across the city!
The Netherlands, as its name suggests, is low-lying territory, with one-quarter of the country at or below sea level. Since it is one of the most densely populated areas in the world many areas are protected from flooding by dykes and sea walls. The country also has strong artistic roots, producing many of the world's most famous artists — from Rembrandt and Vermeer in the 17th century to Van Gogh in the 19th century. Perhaps the best way to get around laid-back Amsterdam and the other Dutch cities, as well as to explore the countryside, is by bicycle. In fact, it is rumored that the Netherlands has more bicycles than people — over 18 million of them!

When you choose to study at Webster Leiden, you are joining students from 45 different nationalities in an ideal, student-centered environment that focuses on personalized learning. Small class sizes ensure that it is easy to build relationships with your fellow classmates, faculty and staff. All courses are taught in English by highly qualified faculty. Students do not need to know Dutch to apply.
Undergraduate students of all majors are welcome to study abroad at Webster Leiden even if their major is offered in full at the campus. Students can choose to take courses specific to their academic major or courses from the Global Citizenship Program (GCP), Webster's globally-focused general education program. GCP courses are regularly offered at Webster Leiden, allowing for a vast selection of general education courses. Undergraduate students can study abroad for one term, a summer, a semester or a full academic year.
When looking for courses, be sure that you are looking at courses for undergraduate students only and that you are looking at classes in the correct term of study. Webster operates on a quarter system, so be sure to select courses in both fall/spring I and II. You will need to be sure that you are registered as a full time student according to Webster and Sacred Heart University. That means you will take 12-15 SHU credits (4-5 courses) while studying at Webster.
Eligibility
You must have an overall GPA of 2.5+ and be in good disciplinary and financial standing with SHU.
Courses
Spring 2020 Study Abroad Course Catalog
Please see
here
for a list of past course offerings.
Course Credit
SHU approved courses taken on this program will count towards your general graduation total. Course grades will also factor into your cumulative Grade Point Average (courses are not available for Pass/Fail).
Students can reference the
Course Equivalency Database
to see which courses have already been approved. Approval for courses not yet approved can be requested through the Office of Global Affairs. Email
adlon-placee@sacredheart.edu
for more information.
Orientations
Upon acceptance to the program, you will be required to attend a mandatory pre-departure orientation. The pre-departure orientation will be conducted at the
end of April
for the
Fall
term abroad and in
late November/early December
for the
Spring
term abroad. Upon arrival in Leiden, you will attend an additional mandatory orientation, on-site at the local campus. You will receive information about the campus, the culture and the expectations as a student. You will also have a chance to mingle with the local students as well during Webster's orientation.
Housing is
NOT
included as part of your SHU study abroad program fees. Housing is paid online, directly to Webster University through your Webster student account.
Study abroad students are housed off campus in the Living and Learning Center (LLC), located just across the street from Webster Leiden's main building, in the heart of the old city center. The building was built in 1929 and was initially used as a vocational school for young women and most recently housed a language school. In keeping with this educational tradition, it is now home to Webster Leiden's Living and Learning Center.
Single and double occupancy rooms are available in the LLC. Each student will have their own bed (with linens), desk, nightstand, lamp and closet. Each room is furnished with a kitchenette and private bathroom. Students have access to on-site laundry facilities, bike storage, cable internet, a student lounge and a beautiful courtyard. The student lounge features a snack vending machine, microwaves, refrigerator, a television and complimentary wifi. You can learn more about housing at Webster University in Leiden
here
.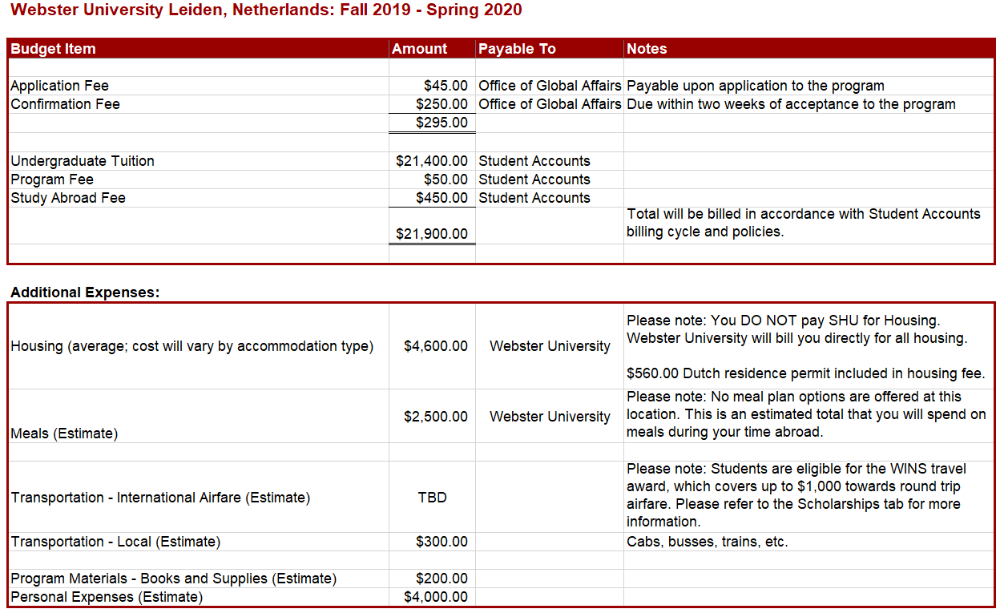 Please note: all costs subject to change.
Fees Include:
Program orientation, arrival airport transfer, and mandatory basic international health insurance.
Fees

DO NOT

Include:
Travel to/ from host country, major medical insurance, on-site course fees, visa/ resident permit fees, program materials, or any personal expenses.
Additional Billing Information:
All expenses are subject to change based upon currency fluctuations, flight demand, personal spending habits, etc. Actual expenses may be more or less than the listed estimates.
Please Note: Program withdrawal fees, penalties, and refunds are subject to the withdrawal policies of each program.

Scholarships and Financial Aid:
Scholarships are a great way to support the cost of your study abroad experience. In an effort to encourage you to study abroad, and to make a study abroad experience more accessible, the SHU Office of Global Affairs prepared a list of scholarships and financial resources. Please note that this is not a conclusive list but it will help you start your search process. The OGA encourages you to apply and take advantage of as many relevant scholarship opportunities as possible.
Please speak with
Student Financial Assistance
to determine how your aid package will apply towards studying abroad.
Please ensure applications for the Welch Tuition Waiver, Thomas More Honors Program Scholarship, and/or Matthew R Dalling Scholarship are submitted by the specified deadline. Applications and corresponding deadlines can be found in your Study Abroad Account. Failure to submit applications by the specified deadline may cause the scholarship dispersal to be significantly delayed.
If you receive scholarships, grants, or financial aid through SHU, these awards are posted to your Student Account according to the normal disbursement schedule.
Please contact the Office of Global Affairs directly for further information.
The
Webster WINS Travel Award
is available to students participating in a Webster University study abroad program. The award covers up to $1,000 towards your round-trip airfare. For more information please visit the WINS award web page
here
.
Students in the
Thomas More Honors Program
are eligible to use a one-time study abroad scholarship of $500 towards the cost of their program. Students will need to apply for this scholarship post-acceptance within their study abroad accounts.
August to December (fall semester) or January to May (spring semester)
Webster University will communicate directly to enrolled students all Move In, Orientation, and Move Out dates.
Please note, all dates are subject to change. Do not book your flight until you have been accepted by Webster University and your Move In and Move Out dates have been confirmed.
Fall 2020
Arrival Dates: TBD
Orientation: August 20-21, 2020
Classes: August 26, 2020 - December 20, 2020
Move Out: TBD - dependent on dates of Final Exams