TerraDotta
Webster University in Switzerland
Geneva, Switzerland
Currently Not Accepting Applications
Established in 1978, Webster Geneva is home to more than 500 students from 90 countries who come together to create a community of learners engaged by a faculty representing 25 nations. Webster University Geneva is an American-style campus located in a park-like setting in the suburban town of Bellevue, an 8-minute train ride from central Geneva. The secure and tranquil setting is a brief walk from Lake Leman and affords spectacular views of Mont Blanc. Both train and bus service are available immediately adjacent to the campus.

Geneva is the historic center of international cooperation and is home to the United Nations, other major international organizations, numerous multi-national corporations, and a vibrant financial and trading center. When it comes to recreation, the Alps and the Lake Geneva region offer some of the best sporting terrain in the world -- right at your doorstep. Moreover, Geneva is situated in the heart of Europe so it is easy to immerse yourself in the culture of other European cities, all accessible in less than two hours by plane.
Dates and Deadlines
| Term | Year | Application Deadline | Decision Date | Start Date | End Date |
| --- | --- | --- | --- | --- | --- |
| TBD | TBD | TBD | TBD | TBD | TBD |
Program Description
Webster University opened its first European campus in Geneva in 1978 and today Webster University Geneva is the largest campus outside of the United States where 670 students from over 90 countries come together in a community of learners engaged by a faculty representing 25 nations. Webster University Geneva is located in a park-like setting in the suburban town of Bellevue, a 8-minute train ride from central Geneva. The secure and tranquil setting is a brief walk from Lake Leman and affords spectacular views of Mont Blanc. Both train and bus service are available immediately adjacent to the campus.

The campus offers classrooms, academic and staff offices, recording and photographic studios, a cafeteria, a fitness center, a student recreational area, and a library. The library consists of a physical collection of over 25,000 items and is supported by a professional, accredited Librarian and trained staff. It also includes an extensive online Library, which allows access to digital collections of academic journals in all subject areas, over 25,000 e-books, e-reference collections, educational streaming video sites, and training materials among other resources.

Orientations

Upon acceptance to the program, you will be required to attend a mandatory pre-departure orientation. The pre-departure orientation will be conducted at the end of April for the Fall term abroad and in late November/early December for the Spring term abroad. Upon arrival in Geneva, you will attend an additional mandatory orientation, on-site at the local campus. You will receive information about the campus, the culture and the expectations as a student. You will also have a chance to mingle with the local students as well during Webster's orientation.

Student Life

The student community at Webster Geneva organizes a wide range of events and activities to entertain, inform and challenge students from ski trips and movie nights to club meetings and leadership retreats. There are many events that celebrate the international diversity of the Geneva campus community including, Global Thanksgiving and Webster's Got Talent.

Webster Geneva students and faculty work together to organize academic conferences, workshops and forums. By participating in these events, students will have opportunities to strengthen friendships, meet experts and develop an unparalleled professional network. Webster students engage fully in a range of student clubs and teams. Current club opportunities include Football, Basketball, Volleyball, Cross Cultural Club, Chess Club, Music Club, and Psychology Club. Additionally, the Webster Humanitarian Association (WHA) is led and managed by Webster students. Students who have an interest in human rights, supporting communities in need or addressing social issues, you will enjoy participating in the activities of the WHA.

Webster Geneva has a full team of staff on site who provide support and assistance to the campus community. Student services offices include the Residential Life Office, the Student Affairs Office, Counseling Services and Career Services. Gaël Baboulaz is the Study Abroad Coordinator in Geneva and will be your primary contact while on the program.
Geneva is Switzerland's second-most populous city, and is one of the world's major centers of international diplomacy, having served as the site of the initial headquarters of the International Committee of the Red Cross. Although the United Nations is now headquartered in New York, the organization still retains a large presence in Geneva at the Palais des Nations and many of its sister/child organizations, such as the World Health Organization and ILO. The International Red Cross, the World Council of Churches, and many other international organizations are also located in Geneva.

At Webster Geneva, you will be welcomed into Webster University's global community by faculty, staff and students from more than 90 nations. Students at Webster Geneva are surrounded by a supportive and collegial community which provides the individual attention necessary for academic success and personal growth. All courses (except French) are taught in English. When looking for courses, be sure that you are looking at courses for undergraduate students only and that you are looking at classes in the correct term of study. Webster operates on a quarter system, so be sure to select courses in both fall/spring I and II. You will need to be sure that you are registered as a full time student according to Webster and Sacred Heart University. That means you will take 12-15 SHU credits (4-5 courses) while studying at Webster.
Undergraduate students of all majors are welcome to study abroad at Webster Geneva even if their major is not offered in full at the campus. The campus offers a wide variety of general education courses and electives in addition to core courses for majors such as Finance, Economics, Business and Management, International Relations, Media Communication, Computer Science, Photography, and Psychology. Students can choose to take courses specific to their academic area or courses from the Global Citizenship Program (GCP), Webster's globally-focused general education program. GCP courses are regularly offered at Webster Geneva, allowing for a vast selection of general education courses.
Eligibility
You must have an overall GPA of 2.5 and be in good disciplinary and financial standing with SHU.
Courses
Spring 2020 Study Abroad Course Catalog
Please see
here
for a list of past course offerings.
Course Credit
SHU approved courses taken on this program will count towards your general graduation total. Course grades will also factor into your cumulative Grade Point Average (courses are not available for Pass/Fail).
Students can reference the
Course Equivalency Database
to see which courses have already been approved. Approval for courses not yet approved can be requested through the Office of Global Affairs. Email
adlon-placee@sacredheart.edu
for more information.
Housing is
NOT
included as part of your SHU study abroad program fees. Housing is paid online, directly to Webster University through your Webster student account.
Students are housed off campus at the Webster residence Les Berges due Rhône which sits on a prime location within the city. The diverse and lively neighborhood makes it easy for students to discover and enjoy all that an international city like Geneva has to offer – many shops, markets, banks, cafes and restaurants are all within walking distance. Les Berges is well serviced by public transportation and is only 25 minutes from campus by tram and train. You can learn more about housing at Webster University in Geneva
here
.
Meals are
NOT
included as part of your SHU study abroad program fees. There is a cafeteria on campus and many shops, markets, cafes, and restaurants are within walking distance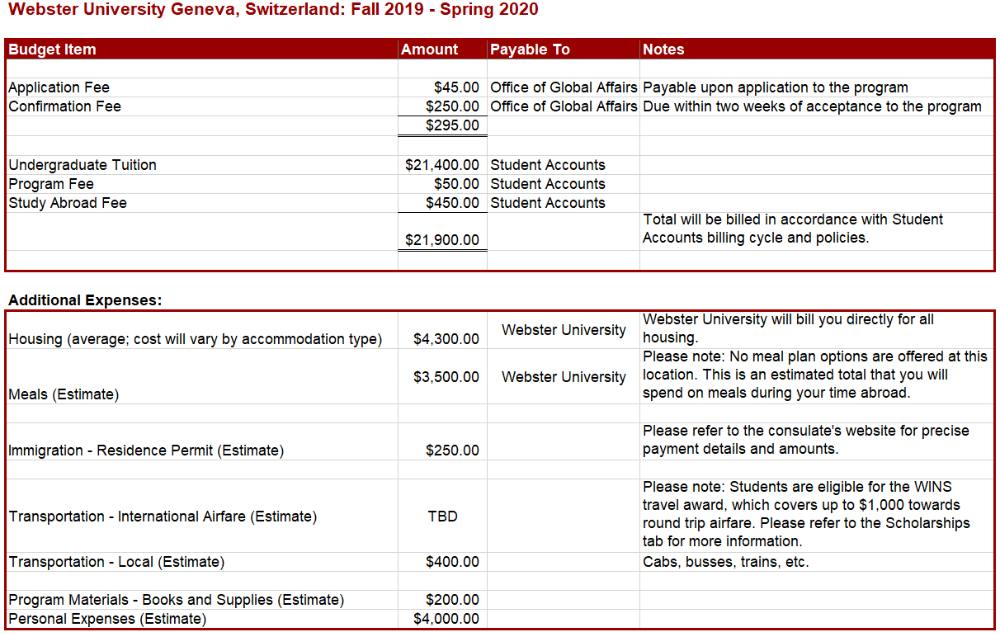 Please note: all costs subject to change.
Fees Include:
Program orientation, arrival airport transfer, and mandatory basic international health insurance.
Fees

DO NOT

Include:
Travel to/ from host country, major medical insurance, on-site course fees, visa/ resident permit fees, program materials, or any personal expenses.
Additional Billing Information:
All expenses are subject to change based upon currency fluctuations, flight demand, personal spending habits, etc. Actual expenses may be more or less than the listed estimates.
Please Note: Program withdrawal fees, penalties, and refunds are subject to the withdrawal policies of each program.

Scholarships and Financial Aid:
Scholarships are a great way to support the cost of your study abroad experience. In an effort to encourage you to study abroad, and to make a study abroad experience more accessible, the SHU Office of Global Affairs prepared a list of scholarships and financial resources. Please note that this is not a conclusive list but it will help you start your search process. The OGA encourages you to apply and take advantage of as many relevant scholarship opportunities as possible.
Please speak with
Student Financial Assistance
to determine how your aid package will apply towards studying abroad.
Please ensure applications for the Welch Tuition Waiver, Thomas More Honors Program Scholarship, and/or Matthew R Dalling Scholarship are submitted by the specified deadline. Applications and corresponding deadlines can be found in your Study Abroad Account. Failure to submit applications by the specified deadline may cause the scholarship dispersal to be significantly delayed.
If you receive scholarships, grants, or financial aid through SHU, these awards are posted to your Student Account according to the normal disbursement schedule.
Please contact the Office of Global Affairs directly for further information.
The
Webster WINS Travel Award
is available to students participating in a Webster University study abroad program. The award covers up to $1,000 towards your round-trip airfare. For more information please visit the WINS award web page
here
.
Students in the
Thomas More Honors Program
are eligible to use a one-time study abroad scholarship of $500 towards the cost of their program. Students will need to apply for this scholarship post-acceptance within their study abroad accounts.
August to December (fall semester) or January to May (spring semester)

Fall 2020
Arrival Dates: August 19/20, 2020
On-Site Orientation: August 21, 2020 - August 22, 2020
Classes: August 26, 2020 - December 20, 2020
Move Out: December 22, 2020
"Geneva became a second for me and the friends that I made became a second family. There were many highlights and incredible moments but some of the opportunities that this study abroad experience gave me were unlike what I could of imagined. Studying abroad taught me how travel is not a way of life is a part of life. The opportunity that Sacred Heart has given me is something that I hope every student has the chance to experience because it opens your eyes to what is always in reach." - Giovanna Gatto, Spring 2017 Particpant