TerraDotta
Winter: Pandit Deendayal Petroleum University
Gujarat, India
Currently Not Accepting Applications
The course Working a Cross-Cultural Context: Considering People, Behavior and Communication is designed to provide students with a practical overview of the cross-cultural facets in context to processes and issues which they must understand to manage people, behavior, and communication, this class aims at exposing students to aspects of culture unattainable during a normal course setting. It is a platform for exchanging views on personality, behavior, and communication in an attempt to find parallels and differences in the shared world. The course will also focus on creating cultural synergy, managing multicultural teams, negotiating across cultures, decision making, and ethics. There will be emphasis on the development of personal competencies in order to enable the students to develop a sensitivity to how cultural differences affect work.
Dates and Deadlines
| Term | Year | Application Deadline | Decision Date | Start Date | End Date |
| --- | --- | --- | --- | --- | --- |
| Winter | 2019 | 10/31/2018 | Rolling Admissions* | 12/28/2018 | 01/12/2019 |
* Applicants will be immediately notified of acceptance into this program and be able to complete post-decision materials prior to the term's application deadline.
Program Description
India, a land of rich and diverse cultures, is the world's largest democracy. With a history that dates back more than 5,000 years, today's India is carving a niche for itself as an economic power. Sacred Heart University has established a relationship with Pandit Deendayal Petroleum University in India to give students of both institutions opportunities to experience each other's cultures and educational offerings.

With the advent of globalization and economic liberalization, nations are growing more enlightened about collaborative efforts in all human endeavors, as well as growing inequalities. As an African proverb says, "It takes a whole village to raise a child." Likewise, the entire academic world, across and beyond borders, must join hands to create holistic learning experiences for contemporary students and researchers.

The digital revolution and social media enable international students to be better informed about learning experiences in non-traditional destinations. Such interface creates win-win situations for international students, as well as for the host institutes, leading to cultural appreciation and providing a fresh perspective on areas that are of global importance and implications.

Upon acceptance to the program, you will be required to attend a mandatory pre-departure orientation. During this orientation, further details about the course and program details will be discussed. The pre-departure orientation will be conducted in early November 2018.
Pandit Deendayal Petroleum University is on a 100-acre campus in Gandhinagar, India, the capital city of Gujarat, 23 km north of Ahmedabad, a well-developed city with a population of 8 million people. The city is known for its remarkable cultural development and social life.

With vision and commitment to become an internationally renowned and respected institution, PDPU has undertaken initiatives to prepare its students and faculty to be global leaders. To complement the process of internationalization, PDPU also is committed to hosting interested international faculty and students on campus for vibrant, effective study and discovery of India.

PDPU basks in the scenic and rejuvenating environment of Gandhinagar, the greenest capital city of India. Nestled in the knowledge corridor, the university campus bustles with active academic and extra curricular activities throughout the day. Nature seamlessly merges with the structural constructs, making life on campus relaxing with enough time and engagements to enrich ones day.
The course includes local field trips and community-based projects that give you the opportunity learn firsthand the lessons and theories of the classroom.

Students will be enrolled in either PS 299 Special Topics Abroad or MGT 299/MGT 203 Cross Cultural Relations for Management Students. The course will be taught by scientists, faculty from management/business schools, government officials, industry professionals, entrepreneurs and artists. It takes place during the winter session and it continues through the Spring 2019 semester. Students will work individually and in small groups during the winter session and spring semester. The goal is to expose students to learning about different cultures.

Students will enroll in one (1) course and receive 3 Sacred Heart University credits. *Courses subject to change and based on enrollment.

Housing is included as part of your study abroad program fees.

While in Gandhinagar, Gujarat, you will live in the PDPU hostel that is fully furnished and includes a dining hall, computer room, and library.

All meals will be included from the moment of arrival at PDPU!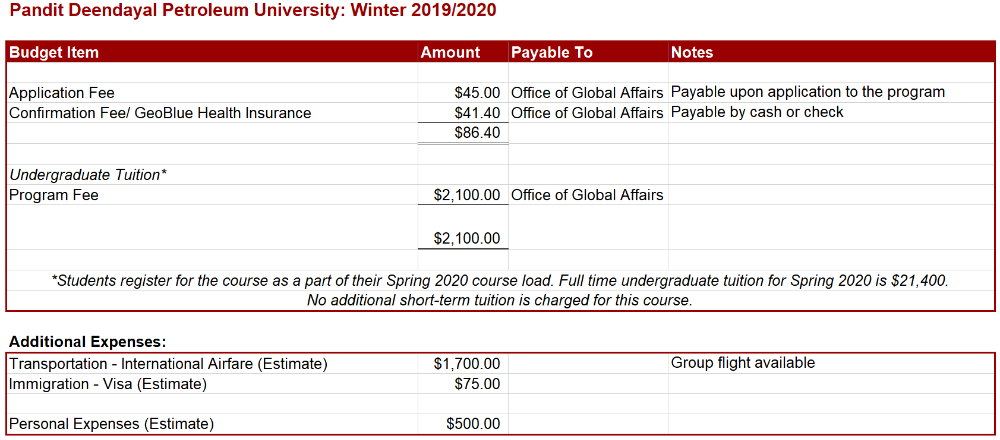 Application fee
- The application fee has been waived for all applicants.
Confirmation fee
- The confirmation fee has been waived for all applicants.
Health Insurance Fee
- $38.10 - Check payable to Sacred Heart University
Health Insurance Fee covers the cost of international medical/travel insurance for the duration of the program
Payment of this will confirm students participation in the program and hold their spot as well as secure any applicable scholarship offered.

Tuition - Students register for the course as a part of their Spring 2019 course load.

Program Fee Estimate - $1709
Program Fees will include: Program orientation, academic cost, meals, group excursions, housing, local transportation, and library access
Program Fees do not include: application fee, confirmation fee, international transportation, visa/resident permit fees, major medical insurance and all personal expenses.
Scholarship opportunities are available for students in the WCOB & CAS. Please see email Elena Adlon Place for more information.
Students in the College of Arts & Sciences and in the Jack Welch College of Business are eligible for Scholarships. Email studyabroad@sacredheart.edu for more information.
Winter 2019
Dec 28th: Depart US
Dec 29th: Arrive India
Jan 12: Depart India/Return US

Please note, all dates are subject to change. Group Flights will be arranged and information will be provided on how you will pay for your airfare costs.
Program Budget Sheet
Winter Budget Sheet for Winter: Pandit Deendayal Petroleum University
Winter Budget Sheet for Winter: Pandit Deendayal Petroleum University
Budget Item
Program fee *
Student Accounts subtotal:
Application fee
Confirmation fee
Transportation- International Airfare (Estimate)
Immigration- Visa (Estimate for U.S. citizens)
Personal expenses (Estimate)
Non-billable subtotal:
Total:
* Billable item